Safety shoes are made to be used! They do like all other shoes need regular care and cleaning to ensure the durability. Here are few tips and tricks to ensure that your shoes have the best possible conditions.
A Safety shoes care guide
Buying a pair of professional, high quality work shoes is a tremendous investment. To maintain their outstanding properties and ensure they stand the test of time, you should follow these footwear care guidelines. Compliance with them ensures your shoes last longer and safeguards your feet to obtain maximum benefit from the shoes.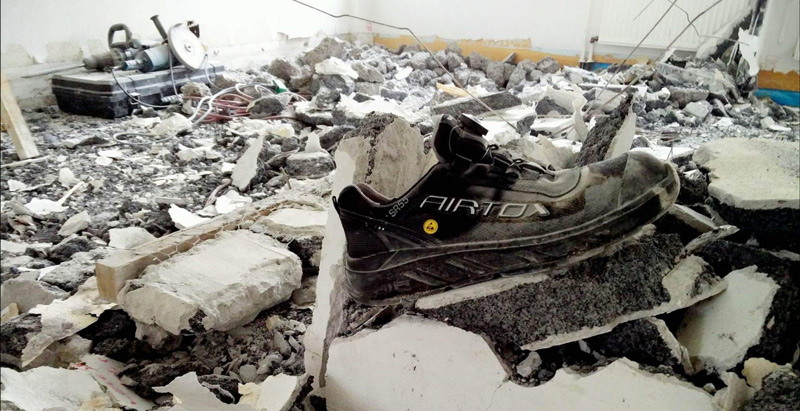 How to clean your safety shoes
Safety shoes need care and cleaning like any other shoes to ensure their durability and it is important to clean them regularly and remove small pieces from the eyelets. After a rough day at work or after heavy use we recommend you to wash your work shoes with a damp cloth, sponge or soft brush. Remember to only use lukewarm water and avoid the use of chemical solvents. In cases where dirt and grime do not come off by only using lukewarm water, and adding a tiny bit of very gentle detergent.
When drying wet protective sneakers, whether from cleaning, working conditions or weather, it is important to stuff them with paper to absorb the moisture from within the shoes and to maintain their shape. It is recommended that you air dry your shoes in a ventilated area away from any type of  heating source, as the direct heat may dry out your shoes and but will negatively impact their durability.
With safety shoes that are wet often, the leather on the shoes can dry out. If you are experiencing that your  sneakers appear to be very dry, we recommend you to apply a small amount of leather grease to ensure that the leather on the shoes remains smooth and flexible. A tiny amount of leather grease can also be applied to stitches to keep them from drying and eventually breaking.
AIRTOX are made with simple and easy maintenance in mind, therefore lukewarm water combined with a cloth, sponge or soft brush and a little leather grease goes a long way.
Tip: are you using the UTURN® Lacing System?
Lastly, we have an extra trick for users who experience a noisy UTURN® on their AIRTOX shoes.
UTURN® is a fantastic invention, but in combination with leather a sound can occur when the wires move over the leather. Don't worry! It can easily be removed by applying a small amount of leather grease on the leather underneath the spot, where the wires in the lacing system are in contact with the material
How to avoid sweaty work shoes
Breathability is rarely associated with safety and work shoes, that's true. By applying the newest technology to the AIRTOX collection of shoes, though, problems with sweaty feet have been solved.
Nonetheless, in order to ensure the best climate in your shoes we recommend you to always wear technical socks or thin wool socks instead of tennis or cotton socks, as these keep in moisture and causes sweaty and/or wet feet. By wearing technical socks or thin wool socks the moisture is wicked away from the skin.
Finally, to ensure the breathability of your safety shoes impregnation and other spray products are a no go. The impregnation clogs up the pores of the leather and prevents the moisture from coming out. Impregnation will the breathable effect of the leather.
To resume, there are a few things you can do yourself to get the most out of these features:
Never wear thick cotton/tennis socks, as these will make your feet sweat more. Cotton holds on to moisture and thereby makes your feet feel sweaty and wet.
Always wear thin technical socks or thin wool socks, as socks from these materials are very effective in leading the moisture away from the skin.
Never use spray products or too much grease on your leather footwear. Spray products and excess grease will clog up the pores of the leather and result in a less breathable shoe. It is very important to know that shoes with Aqua-Cell membrane are already waterproof but also highly breathable. Therefore it is even more important maintain this effect.
How long do safety shoes last?
As for all shoes, lifetime of the AIRTOX footwear and safety shoes in general differs depending on the activity and usage. To make your working shoes last just be sure to follow our guidelines…a little effort goes a long way!