It can be said very short:
technical shoes require technical socks
. At least if you wish to have dry and fresh feet all day.
And when talking about technical sport socks, we do certainly not mean cotton socks which is the exact opposite.
Maybe you are wondering
what is wrong with my cotton socks?
The problem with cotton, hereunder especially tennis sport socks, is that the cotton fibers is exceptionally good at absorbing sweat but very bad at wicking it away from the feet and out in the shoes. The result is a pair of feet that remain wet and sweaty as the socks retain the moisture. This can create bacterial infections, bad odor and blisters.
What are technical socks?
Technical socks wording is often referred to as running or sport socks, which is very misleading, as they can and should be used in other situations than sports.
Unlike cotton socks that are made from the natural material cotton, technical socks are manufactured with using synthetic fibers such as acrylic, polyester, nylon etc. The advantage of synthetic fibers is their ability to wick away moisture and heat from the feet. Moreover they are far better than cotton at cooling and drying your feet.
The reason you should always use technical socks in your safety shoes
AIRTOX shoes are characterized by the innovative technologies which make them extremely comfortable and highly advanced footwear. All shoes from the AIRTOX collection are created to control and wick away moisture and heat from the feet, therefore it's so important to support this mechanism of action by your socks. The e
ffective evaporation by mesh or leather upper of your technical safety shoe ensures temperature regulation to avoid smelly, sweaty and soggy feet. You won't overheat, no matter how hard you work.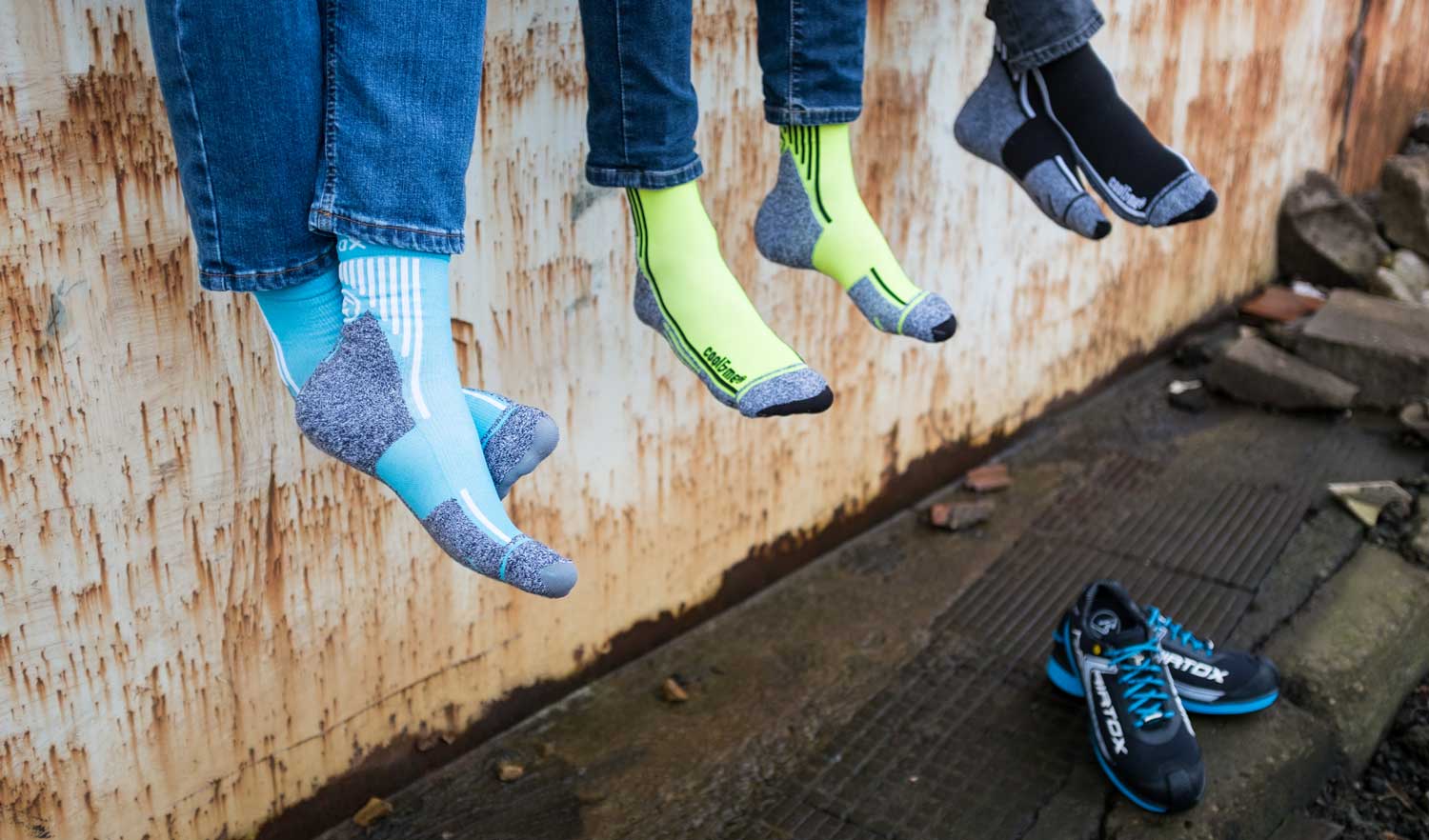 AIRTOX 'Absolute socks'
When trying on shoes, try to create a setting that closely represents work-like conditions, as it will give you the best prerequisites for finding the best pair of shoes.

To complement the technically advanced AIRTOX shoes and provide the best possible conditions to work, AIRTOX has developed a series of technical socks.

AIRTOX 'Absolute socks'

consist of synthetic fibers that effectively absorb and wick away heat and moisture out of the shoes, keeping your feet dry and fresh all day long.

By using 'Absolute socks' in your safety shoe, you minimize the risk of blisters, bacterial infections and bad odor – and in return you get great fit and comfort, fresh and dry feet whatever you do and wherever you are.